Screens Unlimited LLC, works with the best of manufacturers for everything they install which includes the Well designed Roll-Away® retractable screen doors and windows (or otherwise known as Disappearing Screens).
Roll-Away® retractable window screens and screen doors are designed to look good in your home while providing comfort, convenience, and freedom from flies and other insects. Sliding into their housings, they disappear, exposing the view from your windows and doors.
Employing the highest quality materials with recognized engineering skill, Roll-Away® products are easily installed and will last the lifetime of the building when properly maintained. Roll-Away® window screens and doors enhance the beauty and dignity of a well-planned home. Contact Us today for a free quote on these great products for your home or place of business.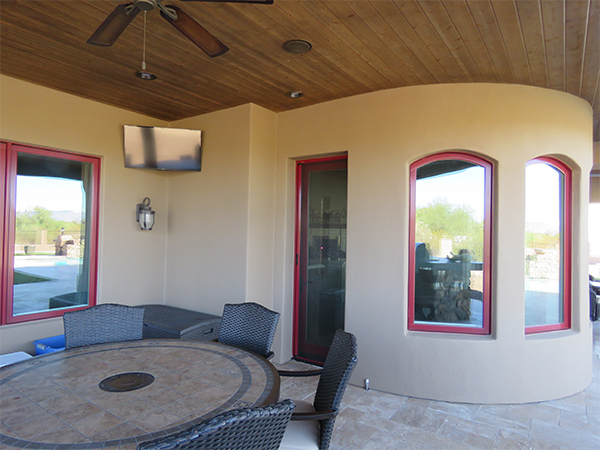 FEATURES
1-7/8″ Rounded Housing
High Quality Aluminum Components
18x14x.013 Charcoal Fiber
Special Wire Options Available including Sun-Control Screening
Best Screen Solution for French Doors
Smooth Gliding Adjustable Roller Guides
Limited Lifetime Warranty
Available in Six Popular Colors
Custom Colors also Available
Series 6000-Installs inside the jamb
Series 6500-Installs on face of door opening
Die Cast Auto Latch™ Handle Set or Easy-To-Grasp Handle & Magnalok™ Seal
BENEFITS
Rolls Away When Not Needed
Lowest Cost
Top Quality
Maintenance Free
Spring Tension Allows Life-Long Fitting
Keeps Insects Out
Lets Breeze In
Roll-Away® Disappearing Screen Door Limited Life-Time Warranty
Terms & Conditions
This warranty covers the Roll-Away® Disappearing Screen Door (Product) and is the only Warranty expressed or implied. The Solar Screens Unlimited Company (Solar Screens Unlimited), subject to conditions and limitations set forth below, warrants its Roll-Away® disappearing screen door to be free from manufacturing defects during the periods set forth from the date of purchase.
Solar Screens Unlimited provides a Limited Lifetime Warranty on all parts and mechanisms on its Product (excluding the screen mesh) for as long as the original purchaser owns the home on which the product was initially installed. Solar Screens Unlimited will repair or provide replacement product, at its election, free of charge for any manufacturing defects up to a maximum liability, which shall be equal to the cost of the door requires to replace the defective Product. The words "defect(s)," as used in this warranty, is defined as imperfections that impair the operation of the screen door.
Expressed Limitations
This warranty applies to conditions of normal non-commercial use, but does not apply to defects that result from:
Improper assembly, handling, and storage or by installation not in strict adherence with Solar Screens Unlimited's written instructions.
Damage(s) due to improper handling, operation, maintenance or cleaning, defective or improper installation.
Damage to the entry door, caused either by the product or installation thereof.
Damage(s) resulting from use of the Product for purposes other than those for which it was designed.
Damage(s) resulting from modifications or attachments to the door.
Damage(s) due to shipment by common carrier, private transportation, or other means of transportation.
Any damage to the Product caused by impact of foreign objects, normal wear and tear, accident, misuse, abuse, acts of God or by fire, explosion, or other casualty.
The Roll-Away Disappearing Screen Door is not designed or intended to act as a security device or to prevent access by small children, pets, or other animals. Solar Screens Unlimited reserves the right to discontinue or modify any of its products, including the color thereof, without notice, and shall not be liable as a result of such discontinuance or modification, nor shall Solar Screens Unlimited be liable in the event replacement material may vary in color or gloss in comparison to the original product as a result of normal weathering. If Solar Screens Unlimited replaces any product under its warranty, it may substitute products designated by Solar Screens Unlimited of comparable quality or price range in the event the product, initially installed, has been discontinued, or modified. Screen mesh is, specifically, excluded in this warranty.
Inspection & Discovery of Defect(s)
It shall be the consumer's responsibility to inspect the Roll-Away® Disappearing Screen Door upon receipt of the Product. If a defect or damage covered under this warranty is discovered upon inspection, the customer must follow the warranty claim procedure outlined below. Solar Screens Unlimited shall not be obligated under this warranty respect to any defect reasonably discoverable upon immediate inspection once the product has been installed. If a defect occurs after installation, then the consumer must follow the warranty claim procedure below.
How to File a Claim
The consumer must promptly notify (within 14 days), in writing, the dealer/contractor/builder who installed the Roll-Away® screen door in order to provide an opportunity to investigate the claim and examine the product claimed to be defective. Solar Screens Unlimited will be notified of the claim by copy of the dealer/contractor/builder's report. Solar Screens Unlimited will then investigate the claim. If a defect covered by this warranty is confirmed, Solar Screens Unlimited or its designated dealer, shall, within a reasonable time after inspection, either repair or replace the defective door as outlined in the terms and conditions above. When making a claim, always refer to the serial number on the door. The serial number is located inside the screen housing, near the label for the housing removal instructions.
Disclaimer of Warranty
Solar Screens Unlimited's liability under this warranty is limited to the conditions above and in no events will Solar Screens Unlimited be responsible for shipping, labor, removal of Product, installation of replacement Product, finishing expenses or other charges, costs or claims incurred by the consumer. No implied warranty, including warranty of merchantability or fitness for a particular purpose shall apply to the Product (or any replacement) beyond the duration of this written warranty.
Roll-Away® Screen Door Maintenance
Warm soapy water recommended for cleaning painted and anodized surfaces. Do not use petroleum, aromatic, aliphatic, acetone, or ammonia-based cleaners on any surface. Powdered cleaners or abrasive cleaning materials are also not recommended. The use of these cleaners or solvents will damage the surface and will void the warranty.
The screen fabric can be lightly brushed with a soft broom or brush to remove dust accumulation. A damp sponge with mild soapy water can be used for cleaning. Avoid the use of any petroleum solvents or plasticizers on the screen surface.
Keep the top and bottom tracks free of debris and obstructions. Every 60-90 days, dependent upon usage of door screen system, the use of a spray silicone applied directly to the tracks will aid in the roller operation.